Thrashers VIO-LENCE Announce New EP, 'Let The World Burn'!
Bay Area thrash metal moguls VIO-LENCE has just announced a new EP entitled, Let The World Burn. We all knew it was coming and it's great to finally get the official word. The EP will mark the band's first new material in 29 years. Today, the band also released a new single, "Flesh From Bone". The new EP will be released on March 4th via Metal Blade Records. Check out the new music below along with more info on the new record.
From The Press Release
"Flesh From Bone" – First Single in 29 Years
Let The World Burn – Five Song EP Coming March 4th
Pre-Orders Available Now
Bay-area thrashers VIO-LENCE have returned with "Flesh From Bone," their first song in 29 years. The track comes from their upcoming E.P., Let the World Burn, their first original release since 1993's Nothing to Gain. The five-song collection will be available worldwide on March 4th via Metal Blade Records.
Listen to "Flesh From Bone" Now:
"This is the first VIO-LENCE song I had written in close to 30 years," admits founding guitarist Phil Demmel. "I wanted to keep some of those early Eternal Nightmare (debut album, 1988) qualities intact but infuse a lot of what I've culled into my songwriting arsenal over the decades. 'Flesh From Bone' has the frenetic picking/fingering riffs and the solo trade-offs that are pretty old-school, and I'm also wearing my influences on my sleeve with a few Exodus and Slayer inspired riffs."
Frontman Sean Killian adds, "'Flesh From Bone' reflects on the true suffering of man during the dark ages of history. Laws and rules of people like Vlad the Impaler were not to be broken, if you did your sentence would be impalement, or worse. To die in battle was to suffer."
"For 34 years, a creation called Eternal Nightmare has been making memories for people around the world. Now, it is time to create some new memories in 2022," laments Killian. "I am very proud of the new music we created, and we are fortunate to have worked with some very creative people. Nothing too polished here, unless fragments of glass and broken razor blades are what you consider polished. I love to create, and we hope your heads explode when you hear the new VIO-LENCE!"
Filling out the band's ranks on Let The World Burn alongside Demmel and Killian are original drummer Perry Strickland, former OVERKILL guitarist Bobby Gustafson and former FEAR FACTORY bassist Christian Olde Wolbers. Let the World Burn was recorded with Juan Urteaga at Trident Studios (Testament, Machine Head, Exodus), with mixing handled by Tue Madsen (The Haunted, Meshuggah) and Grammy Award winning engineer Ted Jensen (Alice In Chains, Deftones, Pantera).
Stream Now and Purchase the following formats at Metal Blade Records: metalblade.com/violence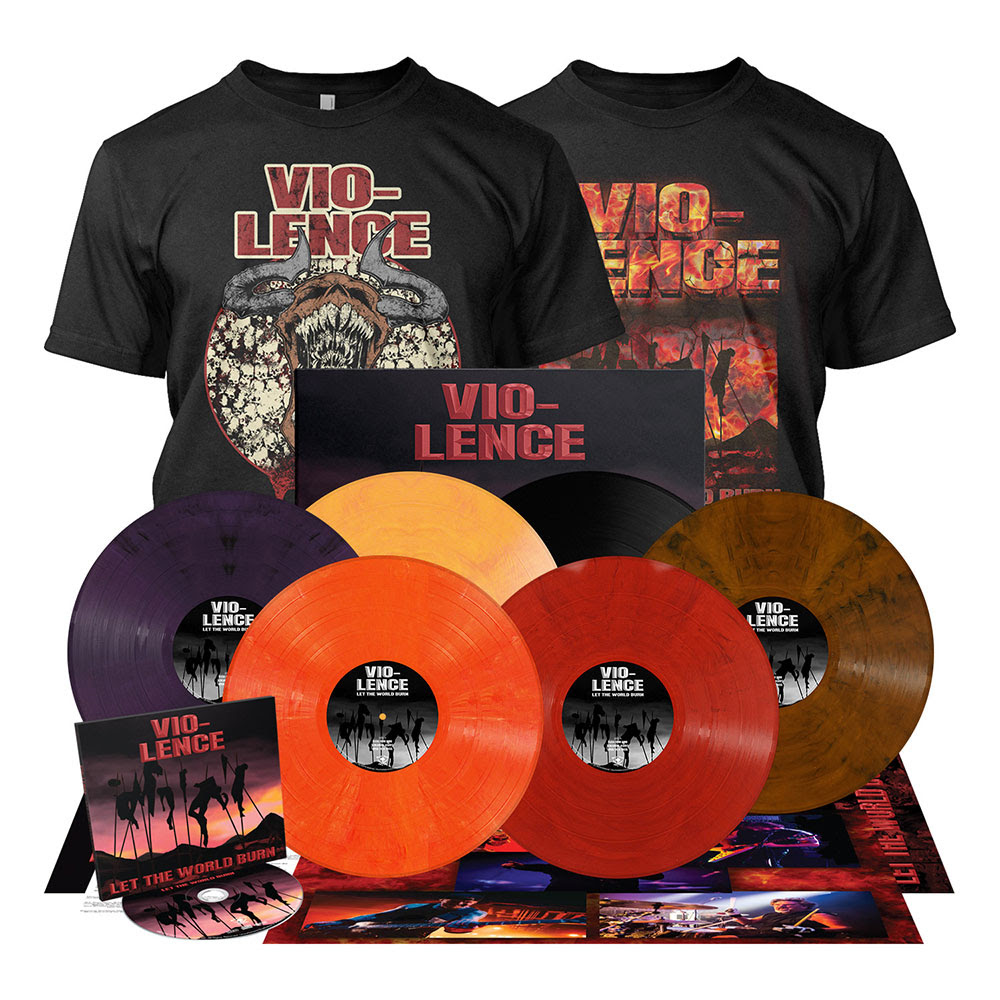 – Digipak-CD
-Orange/red marbled (US exclusive)
-180g black vinyl (EU exclusive)
-Crimson marbled (EU exclusive – limited to 400)
-Firefly glow marbled (EU exclusive – limited to 300)
-Deep violet marbled (EU exclusive – limited to 200)
-Ochre brown marbled (EU exclusive – limited to 200)
-All digital platforms (Spotify, iTunes, etc)
Let The World Burn Track Listing
01. Flesh from Bone
02. Screaming Always
03. Upon Their Cross
04. Gato Negro
05. Let the World Burn
https://www.facebook.com/vioofficialpage
https://www.musicglue.com/vio-merch
https://www.instagram.com/vio_lence_band
https://open.spotify.com/artist/0cBWwOJCsZ9RQW9kBBw5df